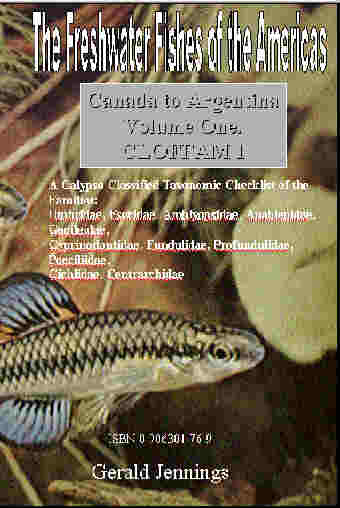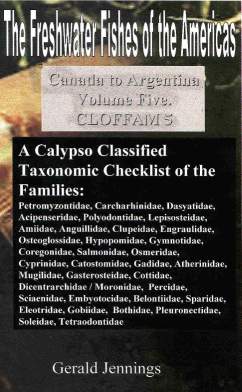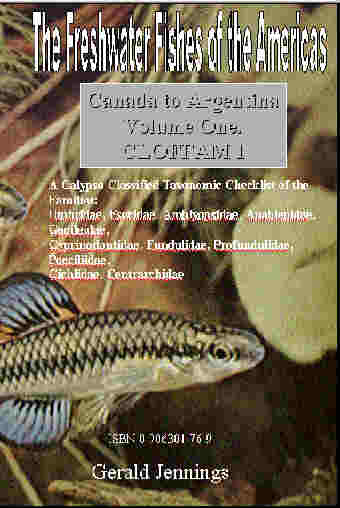 Volumes One to Five
Canada to Argentina
CLOFFAM 1 to CLOFFAM 5 Listing a total exceeding 4,900 species
( Four of the 5 Volumes are now in Print. All are available in pdf.online)
ALL TITLES come with one year's free updating service and a CD containing the database information within the book.
Price £29.99 per Volume (U.K.) $34.50 (U.S.) per Volume
A Classified Taxonomic Checklist of Species Recorded on the Calypso Ichthyological Database of New World Fish species
VOLUME ONE ISBN : 0 906301 76 9
Families;
Umbridae, Esocidae, Amblyopsidae, Aplocheilidae, Cyprinodontidae, Fundulidae, Rivulinidae, Profundulidae, Anableptidae, Goodeidae, Poeciliidae, Percopsidae, Asphredoderidae, Elassomatidae, Centrarchidae, Cichlidae Approximately 1,100 species.
CICHLIDS - SNOOKS - TOOTHCARPS - PIKES - SUNFISHES - ETC
VOLUME TWO ISBN : 0 906301 81 5
Families;
Acestrorhyncjidae, Ctenoluciidae, Erythrinidae, Characidae, Anostomidae, Curimatidae, Gasteropelecidae, Hemiodontidae, Lebiasinidae and related sub families Over 1,300 species.
CHARACINS - HEADSTANDERS
VOLUME THREE ISBN : 0 906301 85 8
Families;
Ictaluridae, Pimelodidae, Hypopthalmidae, Loricariidae, Callichthyidae, Ariidae, Aspredinidae, Auchenipteridae, Doradidae, Trychomycteridae, Cobitidae, Cetopsidae, Scoloplacidae, Ageniosidae Approximately 1,600 species.
CATFISHES - LOACHES - BOTTOM DWELLERS
VOLUME FOUR ISBN : 0 906301 86 6
Additional Species from the families : Achiridae, Albulidae, Anguillidae, Apteronotidae, Atherinidae, Batrachoididae, Belonidae, Carangidae, more Clupeidae, Cyprinidae, Electrophoridae, more Eleotridae, more Engraulidae, Galaxiidae, Gerreidae, more Gobiidae, Haemulidae, Hemiramphidae, Lepidosirenidae, Megalopidae, more Mugilidae, Nandidae, Ophichthidae, Percichthyidae, more Petromyzontidae, Pinguipedidae, Potamotrygonidae, Pristidae, Rhamphichthyidae, more Salmonidae, more Sciaenidae, Sternopygidae, Synbranchidae, Syngnathidae, more Tetraodontidae
plus Indexes and late additions
VOLUME FIVE ISBN : 0 906301 90 4
Families;
Petromyzontidae, Carcharhinidae, Dasyatidae, Acipenseridae, Polyodontidae, Lepisosteidae, Amiidae, Anguillidae, Clupeidae, Engraulidae, Osteoglossidae, Hypopomidae, Gymnotidae, Hiodontidae, Coregonidae, Thymallidae, Salmonidae, Osmeridae, Cyprinidae, Catastomidae, Gadidae, Atherinidae, Mugilidae, Gasterosteidae, Cottidae, Dicentrarchidae / Moronidae, Percidae, Sciaenidae, Embyotocidae, Belontiidae, Sparidae, Gobiidae, Eleotridae, Bothidae, Pleruronectidae, Soleidae, Tetraodontidae Approximately 800 species.
plus
CLOSFICA 1999

ISBN:-0 906301 88 2

A Classified Taxonomic Checklist of all species recorded on the Calypso Ichthyological Database for database area 060.

Caribbean Sea, Central Western Atlantic, Florida and Bermuda, Gulf of Mexico, and the Northern Coast of South America.
150 pages, plus integral registration and free updating service.
£29.90
.